HOTWAV R6 Ultra - durability knows no boundaries
Sept. 16, 2023, 5:56 p.m.
HOTWAV appears to have its sights set on becoming a dominant player in the tablet market, and the R6 Ultra, given its specifications and pricing, seems poised to make a strong case for that position. But what's fueling all the enthusiasm surrounding this tablet? Let's delve deeper into the key aspects of this device.
Design
The HOTWAV R6 Ultra caters to those seeking the best of both worlds: an elegantly designed exterior suitable for office use, coupled with a rugged build tailored for outdoor adventures. Moreover, it's engineered to withstand shocks, drops, and even water exposure. Whether you're utilizing it at home or taking it on your journeys, you can trust that your device will remain safeguarded against potential damage.
The 10.4-inch FHD display offers crisp and clear visuals, making it ideal for gaming, watching movies, or working on documents. With a resolution of 1200 x 2000, you'll consistently enjoy sharp, high-quality imagery.
The tablet's 16:10 aspect ratio, distinct from the more common 16:9 ratio, provides extra vertical space, making the R6 Ultra particularly suitable for extended reading sessions or perusing lengthy documents. Additionally, this aspect ratio ensures a well-balanced field of view when browsing the web or viewing videos, greatly enhancing your experience when engaged in research projects or online courses.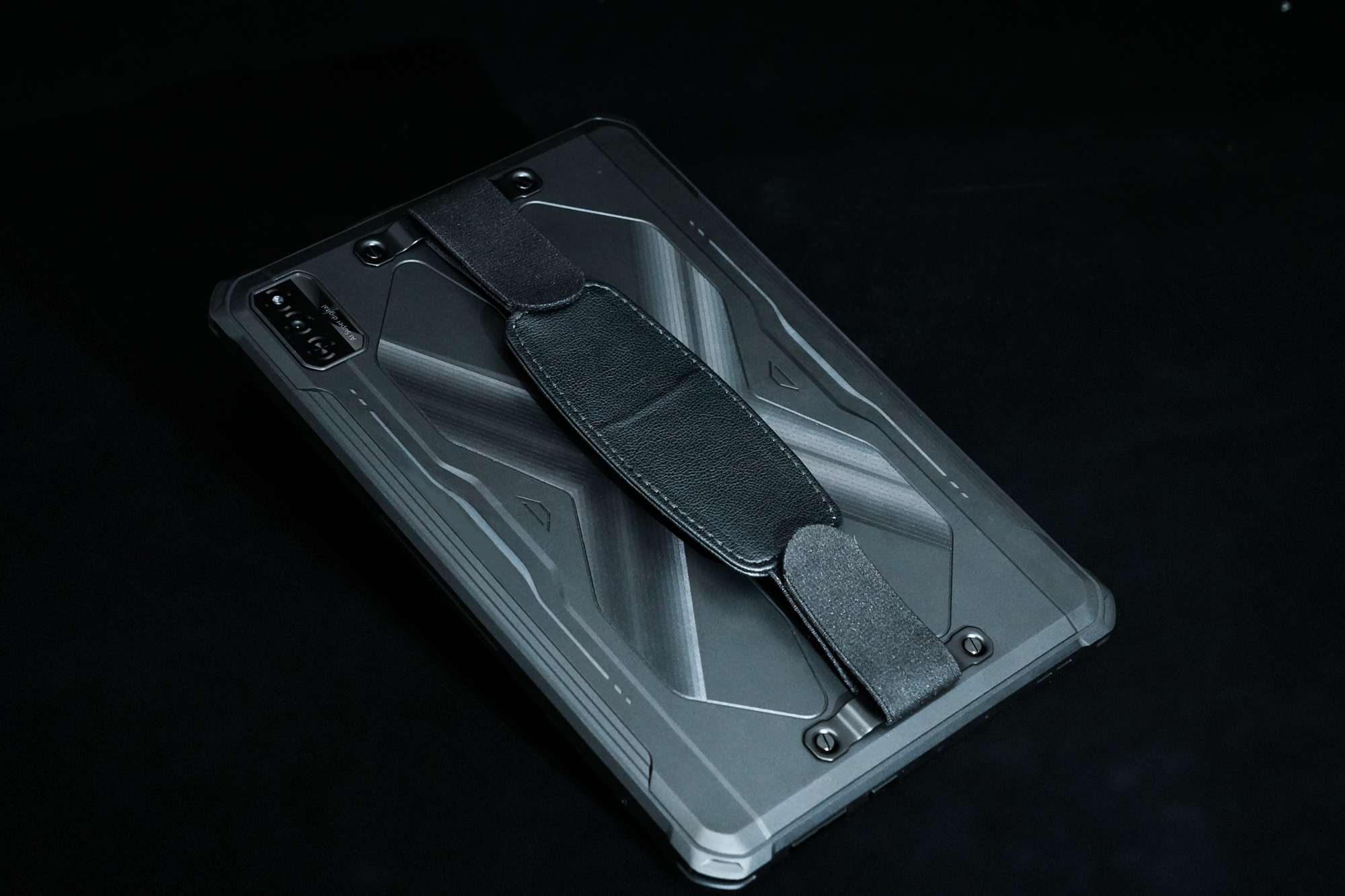 The R6 Ultra operates on Android 13, the latest iteration of this popular operating system. This grants access to a host of fresh features and enhancements, including an overhauled user interface, faster navigation, and improved battery longevity.
Beneath the surface, the HOTWAV R6 Ultra packs a punch with its Quad-core processor and 8GB of RAM. This formidable combination guarantees smooth, lag-free performance, even when juggling multiple applications simultaneously. Whether you're surfing the web, managing emails, or engaging in gaming, the R6 Ultra will keep pace with your demands.
The inclusion of dual speakers, one on each side of the tablet, creates an acoustic environment that effectively cancels out ambient noise, immersing you in audio experiences that monaural sound simply can't replicate.
Battery Life
The HOTWAV R6 Ultra tablet boasts an exceptionally large battery with a staggering capacity of 15,600 mAh, ensuring extended usage periods without the need for frequent recharging. With a standby duration of 900 hours, the R6 Ultra surpasses most other tablets in terms of endurance. Whether you're utilizing it for work or leisure, you can rely on your tablet being ready when you need it.
For those who frequently make calls on their tablet, the R6 Ultra offers an impressive 20 hours of talk time, allowing for extended communication without worrying about running out of battery.
When it comes to video playback, the R6 Ultra once again distinguishes itself by offering 18 hours of continuous playback on a single charge, facilitating extended binge-watching sessions of your favorite shows and movies without the fear of running out of power.
The 18 watt fast charge will save you a lot of time of waiting for to device to be fueled up.
Connectivity
The HOTWAV R6 Ultra supports both 2.4G and 5G Wi-Fi, enabling users to connect to the faster 5G network when available or opt for the more common 2.4G network. This versatility provides the best of both worlds: swift speeds when needed and backward compatibility for times when 5G isn't available. Additionally, the tablet incorporates a built-in GPS receiver for navigation assistance during travel, and Bluetooth technology facilitates wireless connections with other devices, enhancing productivity and entertainment options.
Camera
Equipped with a 16-megapixel rear camera, the HOTWAV R6 Ultra enables high-quality photo and video capture. The camera's flash and autofocus capabilities further enhance its performance, ensuring exceptional results even in low-light conditions. The 16-megapixel front-facing camera is ideal for video calls with friends and family and for capturing spontaneous moments wherever you go. With its built-in microphone, your voice will come through loud and clear.
Storage
The HOTWAV R6 Ultra is a powerhouse of a tablet, combining 8GB of RAM and 256GB of internal storage within an elegant and sleek package. But that's not all – the R6 Ultra also supports expandable storage of up to 2TB, offering ample space for all your photos, videos, and files.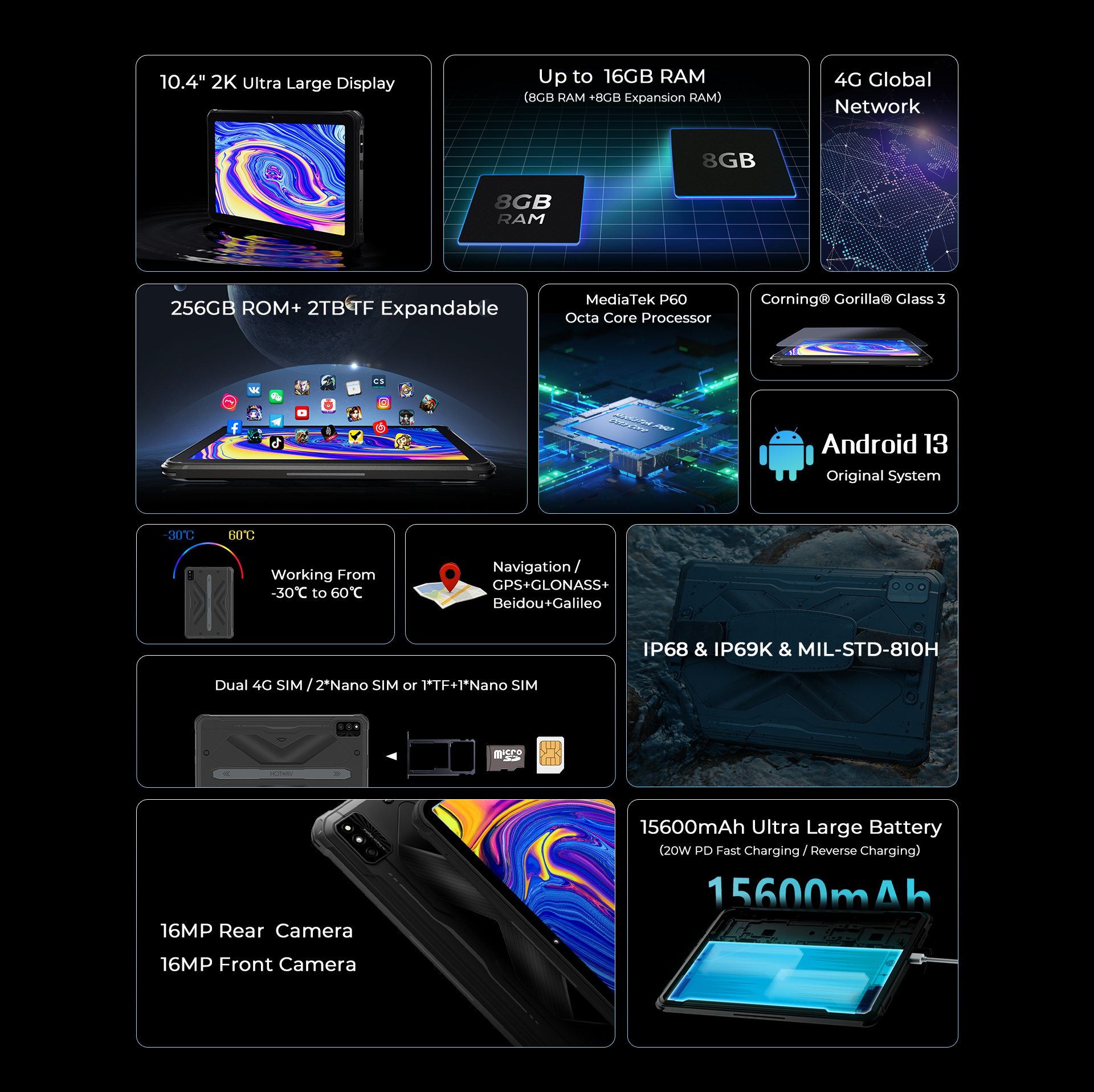 The HOTWAV R6 Ultra tablet is a versatile and robust device capable of handling various tasks. Its 10.4-inch display ensures an exceptional viewing experience for movies, games, and web browsing. With 8GB of RAM and 256GB of internal storage, this tablet accommodates your favorite apps and media effortlessly. The inclusion of a 16MP rear camera, a 16MP front camera, and the preinstalled Android 12 further enhance its appeal. If you're in search of an all-in-one tablet, the HOTWAV R6 Ultra is certainly a compelling choice.
The product will launch on Aliexpress on the 18th of this month, featuring a substantial initial discount with a price of approximately $169.99. You can buy HOTWAV R6 Ultra here.
comments powered by HyperComments